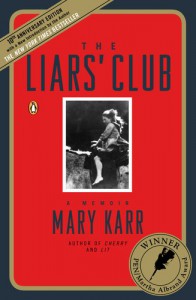 The Liars' Club is steeped in a strong blend of Texas scenery [oil rigs and nutria rats], sounds ["He's not worth the bullet it'd take to kill him"] and it's stifling stickiness as much as it is run through with the horrors and trauma Karr experienced as a child.
What is worth the price of admission though is Karr's writing. She draws on the rhythms and turns of her Texas dialect to craft sentences that are evocative and unexpected. And they always serve the story, from the heat of a Texas summer to the smell of her stepdad's breath the whys of the story and the imagery of it are always linked in ways that make for a really engaging book. Even in framed stories, anecdotes her father is telling at the bar and she is passing down to us, his shape and movement, the intrusions of his friends in the titular "Liars' Club," add to the story in a way that is more than just a painted background on which to picture the story.
Karr's story is full of sweet, heartfelt moments, absurdity, humor and trauma. It's easy to picture a very different book with the same material, but the way Karr structures her telling moves the trauma away from the center of the story. It makes the book about her family and not what has happened to them, and also makes those moments more impactful.
"That afternoon, for the first time, I believed that Death itself lived in the neighboring houses. Death cheered for the Dallas Cowboys, and wrapped canned biscuit dough around Vienna sausages for the half-time snack."
If you've heard about the book you may have heard about the more lurid incidents, her mother threatening her with a knife, for instance. These scenes are major parts in the story, but they never feel central in the way they might in a tell-all by the subject of a story that got national media attention, or a book that will get made into a typical Lifetime-style movie. For one, you don't see them coming. The only one she forecasts in detail is the night with the knife, but there are several other deeply disturbing incidents throughout the book. The story about the knife itself arrives suddenly at the end of one of Karr's long chapters. Others kick off chapters. At least one comes suddenly in the middle of the chapter.
It's a shock to read at times, but may be the healthier way to write. We are so used to building to such dramatic moments, but there is no inevitability to an assault, or an emotional breakdown, sometimes things just happen. It's terrible, but it's also a way of keeping your own story. Karr is not a sum only of these abuses, she's also her father's storytelling, her mother's erudition, a take-no -shit-attitude and much else besides. Which makes it more appropriate when Karr ends years later with her family still together. Her mother who held the knife, her father who got too drunk, Karr and her sister, sharing their traumas and the many other experiences that make up their lives. I think a hopeful note is the tendency for the ending of memoirs, but it rings true here because throughout the book Karr has always seen through the worst times as a bug not a feature.
If you've not gotten onto The Liars' Club yet, I highly recommend it. It's a straight shame I hadn't moved sooner to read Mary Karr after hearing her interviewed and reading and excerpt from The Art of Memoir.
Side note: I picked up my copy of Mary Karr's memoir in the last indie book shop in San Antonio [Twig Book Shop at the Pearl Brewery if you're ever in town]. I try to find local bookshops any time I travel and buy something of local interest. I have trouble explaining my intentions sometimes — I'm more interested in fiction or memoirs that happen to be here than the local "Images of America" installment — but it starts a conversation and leads to some unexpected treasures.